Sports Betting
at Mohegan Sun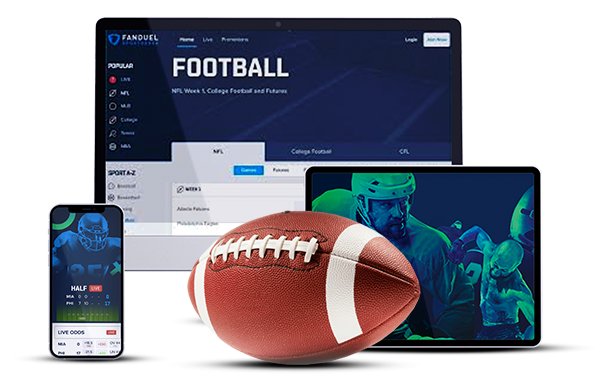 Get in the game and place your bets in-person or online!
Mohegan Sun is your game-time headquarters for all your favorite teams! Bet in-person at Mohegan Sun FanDuel Sportsbook located in Casino of the Earth, at our kiosks in Bow & Arrow Sports Bar, or bet anywhere in Connecticut using our new Sportsbook app.
Partnered with FanDuel, America's #1 Sportsbook app!
Our state-of-the-art Sportsbook located in Casino of the Earth featuring a 140-foot video wall playing all your favorite teams, 39 betting kiosks and a winning menu!
Outside of the 39 kiosks available at our state-of-the-art sportsbook, kiosks are also stationed at the newly renovated Bow & Arrow Sports Bar and novelle, ready to start taking bets now.
Our new Sportsbook app partnered with FanDuel is live! Parlays, straight bets, round robins and in-game are just some of the ways to wager.

Place bets on all of your favorite professional and collegiate teams* including football, basketball and more!

In-game betting, same game parlay
and boosted event odds!
Yes! The state of Connecticut passed sports betting and real money online gaming in the spring of 2021. It is legal for anyone 21 years of age and older. While you don't need to be a resident of Connecticut, you do have to be physically located within the state while playing.
Anyone aged 21 and over and not on the exclusion list can play. The app will only function when you are physically located in Connecticut.
Creating an account couldn't be easier! Just sign up with your email address and go through a verification process to confirm your age and identity.
Yes! Since Mohegan Sun FanDuel Sportsbook online will be limited to players within the state of Connecticut, location permissions must be enabled on your device.
Now open, bet in-person at our kiosks located at Bow & Arrow Sports Bar or bet from anywhere in Connecticut using our new Sportsbook app and, coming this winter, bet at our state-of-the-art Sportsbook located in Casino of the Earth.
IN PERSON: The Sportsbook cashiers will be accepting cash, winning tickets and chips. You may use cash, winning tickets, and vouchers at the FanDuel kiosks.

ONLINE: Credit or debit cards cannot be used to place a wager. Debit, Credit Cards and Direct Payments can be used to make payments in the app or online. Online Cash Deposits and Withdrawals can also be made in person at the Mohegan Sun FanDuel Sportsbook Cashier Counter.
Withdrawals must be initiated online. During normal Sportsbook hours of operation.
We've partnered with FanDuel, the premier destination for sports fans online. You can make wagers on many professional and collegiate level* sports teams. If it's a sport you love to watch, you'll likely be able to bet on it!
*Betting on Connecticut collegiate teams is not permitted.
PROBLEM GAMBLING PROGRAMS WORK. CALL TOLL FREE 1.888.789.7777.