A team of hosts awaits you, ready to assist with every detail. Whether you are coming for dinner and a show or are planning a vacation, you can count on our team to make your stay an unforgettable experience. Thank you for choosing Mohegan Sun.

To speak to a host, please call 1.888.226.7711.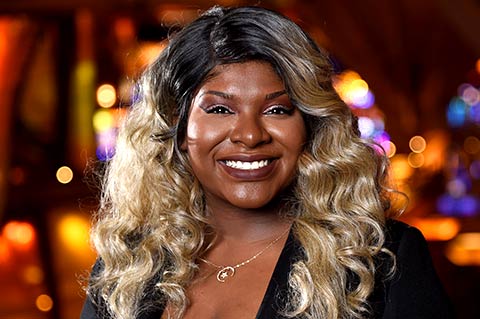 ANTOINISHA "ANNY" DAMAS
Executive Host
adamas@mohegansun.com
Antoinisha "Anny" Damas joined Mohegan Sun as an Event Security Officer and worked hard to become an Executive Host. She believes that the best way to make a guest feel appreciated is to "build a relationship with them and listen carefully to their needs. Visit them while they're on property, and check up on them after they've left to make sure they've had the best experience possible. Make them feel as important and at home as you'd like to feel!"
CHRIS SULLIVAN
Executive Host
csullivan@mohegansun.com

Chris started at Mohegan Sun as an Executive Host and previously spent several years in the social work field. Chris is excited about his career change and enjoys providing top notch guest service. Chris is a self-proclaimed "grill master" and enjoys playing golf and slicing dozens of golf balls into the woods. Chris likes to make sure his guests have a good time and will make sure you have a memorable experience at Mohegan Sun.
DOREEN KING
Executive Host Assistant Manager
dking@mohegansun.com

Doreen joined Mohegan Sun as an Executive Host and was promoted to the role of Assistant Manager. She came to the casino with extensive experience in the fields of banking and retail management. "People come here to have fun and escape everyday life. Providing the best possible experience for our guests and exceeding their expectations is what motivates me each day." She is proud to say she works for the "#1 casino in the country!"
---
GARY SURPRENANT
Executive Host
gsurprenant@mohegansun.com

Gary started at Mohegan Sun as a Security Officer and then joined the Executive Host team. Early on in his career, he recognized that it was Mohegan Sun's customer service that set us apart from the competition. "For us it's simple; the best way to assist our guests is by doing our jobs. And luckily for our guests it's our job to go above and beyond with everything we do. We do everything we can to make sure each and every guest has not only a good time but a great time. If I can help a guest plan a night out and alleviate some of the stress that comes with the planning process, then I feel like we've provided excellent customer service."
QUAN ALLEN
Executive Host
mallen@mohegansun.com

Melquan started working at Mohegan Sun as a Player's Club representative for a few months before becoming an Executive Host. When asked what he thinks is important for great guest service, he said, "I think it's imperative to always follow up with guests and try to make their experience as special as possible!" Melquan believes in making sure the guest comes first and takes satisfaction in truly building relationships with guests. "I want to make sure people are having fun, I'm always having fun, and I want to spread that energy!"
SHADAY MOSS
Executive Host
smoss@mohegansun.com

Originally from Queens, New York, Shaday joined the Mohegan Sun as an part of the Executive Host team. When it comes to guest service she believes that the guest is always right and will always come first. "Guest Service is something that you pick up from personal experiences. You want to treat guests the way you would want to be treated; with positivity, understanding, and a lot of care. Our key is to show guests that we are here to make their experience phenomenal and we expect nothing less."