A team of hosts awaits you, ready to assist with every detail. Whether you are coming for dinner and a show or are planning a vacation, you can count on our team to make your stay an unforgettable experience. Thank you for choosing Mohegan Sun.

To speak to a host, please call 1.888.226.7711.

MIKE CANTWELL
Executive Host Assistant Manager
mcantwell@mohegansun.com
Mike joined Mohegan Sun in April of 2015 as a part-time Players Club Representative eventually moving to the Executive Host Department, where he assumed the role of Assistant Manager in October 2016, after serving as a Casino Host and Executive Host. Mike believes,"The most effective way to make the guest feel special and appreciated is unquestionably genuine sincerity. Simply put, there are no shortcuts to character. When interacting with the guest it is always critical to look people straight in the eye, shake their hand firmly, and most of all, always be honest and upfront. People can sense true warmth. It is not what we do, but ultimately who we are that matters. Everyone is a VIP in my philosophy."
BETSEY SAUVAGEAU
Executive Host
bsauvageau@mohegansun.com

Betsey began her career with Mohegan Sun as a VIP Lounge Representative and quickly moved to Executive Host. She has a background in Customer Service and feels the best way to perform her job is to spend a significant amount of time being visible and available on the casino floor. Betsey's warm and friendly attitude is a great addition to the Executive Host Department and to each guest she comes in contact with. "Developing Relationships combined with exceptional customer service will bring guests back to Mohegan Sun time after time!"
LEAH SILVA
Executive Host
lsilva@mohegansun.com

Leah started her career at Mohegan Sun at the golf course then joined the Executive Host Department as a VIP Lounge Representative, before her promotion to Executive Host. Leah's excitement and energy pairs along well with the liveliness of the property. Leah believes, "It is very important to be able to have a good relationship with my guests, so every time they visit they are treated with respect and kindness and also to ensure all their needs are met while they are on our property."
---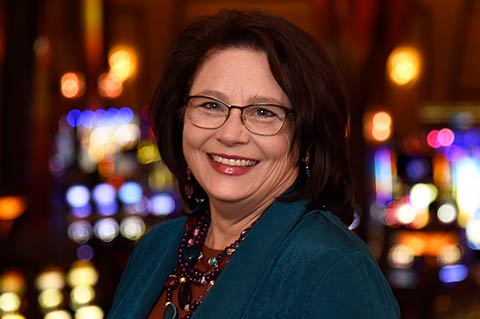 Lynnette Lobrano
Executive Host
llobrano@mohegansun.com

Lynnette began her career at Mohegan Sun in August of 2016. Her first foray into the casino industry was as a Casino Host. She quickly transitioned to the Executive Host position which she has taken on with passion and dedication. She has since begun to mentor the newer Hosts, while she continues to develop her skills to best accommodate her guests needs. Lynnette embraces the Executive Host role by bringing friendly personalized service. Her energetic and exuberant personality lends itself in creating a fun and fulfilling experience for all those that come into contact with her. "When I am interacting with a guest I don't just listen, I hear them. I do everything I can to make their visit the best! All of our guests are so important to me and I truly enjoy what I do."
STASIA WILLIAMS
Executive Host
swilliams@mohegansun.com

Stasia started at Mohegan Sun as a Hostess at Birches Bar & Grill and transferred to Bar Americain as the Maitre d'. After 5 years of dedicated service, she decided to take her talents to the Host Department. She is understanding, knowledgeable of the property and strives to give the best customer service for every guest. Stasia believes that everyone who comes to Mohegan Sun should leave with some of the best memories they will ever have and a new take on how outstanding customer service should be done!
TONY JAMELE
Executive Host
tjamele@mohegansun.com

Tony began his career with Mohegan Sun in 2002 as a Change Bank Cashier in the Coin Department eventually moving to become an Executive Host. Tony's outgoing personality and enthusiasm is a natural fit the team. Tony believes, "As an Executive Host it is so important to listen to every guest concern and to think of every guest as your only guest. It's also important to build genuine relationships and make sure that everyone knows that we offer so much here at Mohegan Sun, it's not always about gaming. As an Executive Host you have to know how to be flexible in your conversations, you need to be respectful and understanding and to treat the guest the way you would want to be treated!"